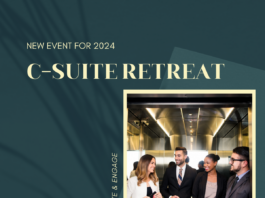 TALLAHASSEE, FL, OCTOBER 10, 2023 – Registration is now open for the automotive finance industry's newest event, hosted by the National Automotive Finance (NAF) Association. The 2024 Auto Finance C-Suite Retreat is an exclusive event designed for top executives, thought-leaders, and decision-makers at sales finance companies to come together for candid conversations about the non-prime market.
The C-Suite Retreat is where innovation, collaboration, and inspiration converge for an unforgettable experience, with the inaugural affair taking place September 10 – 12, 2024 in San Antonio, Texas. This event provides a forum for networking and learning, allowing business leaders to stay at the forefront of industry developments. Space is limited to 25 registrants to maintain an intimate environment that supports open and honest discussion.
Attendees can expect powerful networking and thought-provoking sessions. This is an opportunity to connect with fellow industry leaders, build lasting relationships, and forge partnerships that will drive success in the ever-changing landscape of auto finance. Participants will also gain exclusive access to insights through intimate roundtable dialogue that will equip them with the knowledge needed to stay ahead of market trends and develop strategies for success.
"Today, we are excited to introduce a transformative addition to the industry's event calendar," said Jennifer Martin, Executive Director of the NAF Association. "Our new C-Suite Retreat is not just another conference; it is designed to be an experience where top-level executives can come together, share insights, and forge connections that will drive innovation and success. We believe this retreat will offer an unparalleled platform to non-prime auto finance executives seeking valuable networking, strategic discussions, and personal growth."
Early bird pricing is in effect now through January 31, 2024. Early bird registration fees are:
NAF Association Finance Company Member Registration: $995
Finance Company Non-Member Registration: $1,395
A special Guest Registration is available for $395. Guest Registration includes both evening receptions, the group dinner, and a choice of either the spa or golf.
"Auto finance executives attending the 2024 Auto Finance C-Suite Retreat will be part of an unforgettable experience," said Martin. "This event is a testament to our commitment to fostering education and collaboration among professionals in the non-prime auto finance marketplace. We can't wait to welcome attendees to San Antonio for this groundbreaking retreat."
To register and learn more about the 2024 Auto Finance C-Suite Retreat, visit https://www.nafassociation.com/events/c-suite-retreat. For sponsorship and partnership opportunities, contact Diane Merino at [email protected].
About National Automotive Finance Association
The National Automotive Finance (NAF) Association is the only trade association exclusively serving the non-prime auto financing industry. Organized in the fall of 1996, the NAF Association supports its members and the industry with programs and education.
For more information, visit our website www.nafassociation.com.