When consumers purchase cars at an auto dealer, they often buy supplemental products and services called voluntary protection products (VPPs). These provide additional coverage and protection for certain vehicle components or services not covered by or beyond the manufacturer's original warranty.
This not only impacts the consumer and the dealer's bottom line, but also impacts lenders and subprime lenders, who have a vested interest in the vehicle maintaining proper operating condition over time.
However, are there certain age/gender demographics with a higher propensity of purchasing any specific set of VPPs? It's important to study these trends since artificial intelligence (AI) technology has given us more insight into reducing certain biases that may be present in the vehicle purchase or loan origination process.
Our data science teams set out to study the characteristics of consumers buying these products.
For the analysis, we looked at an anonymized and deidentified data set of more than 340,000 auto purchases involving loans from the first nine months of 2023 (January 1st to September 30th) from a cross-section of auto lenders of varying size and customer profiles.
It's important to note that these differences may reflect varying levels of access, opportunities, or experiences in the lending process. Furthermore, additional research needs to be studied to determine any specific causes underlying these variations.

The voluntary products we examined include:


• Anti-Theft and Theft Protection services
• Appearance Protection Plans
• Bundled Products
• GAP Insurance
• Maintenance Plans
• Paintless Dent Repair Contracts
• Key Replacement Contracts
• Tire and Wheel Plans
It should come as no surprise that different groups of individuals have different purchasing needs and preferences when visiting a dealership. Our findings revealed a few things that surprised us, as well as a few areas that were in line with expectations.
Retirees Purchases VPPs at Almost 3x Than Others
Retired Individuals purchase more Voluntary Products compared to Employed Individuals. Twenty-five percent of all auto loan applications where the primary applicant was retired had more than one VPP, in contrast to non-retirees where only 9% of the applications had a VPP.



At an aggregate level, Retired individuals are three times more likely to purchase more than one Voluntary Products. When broken down by specific product categories, retired individuals purchase products focused on safeguarding their vehicles.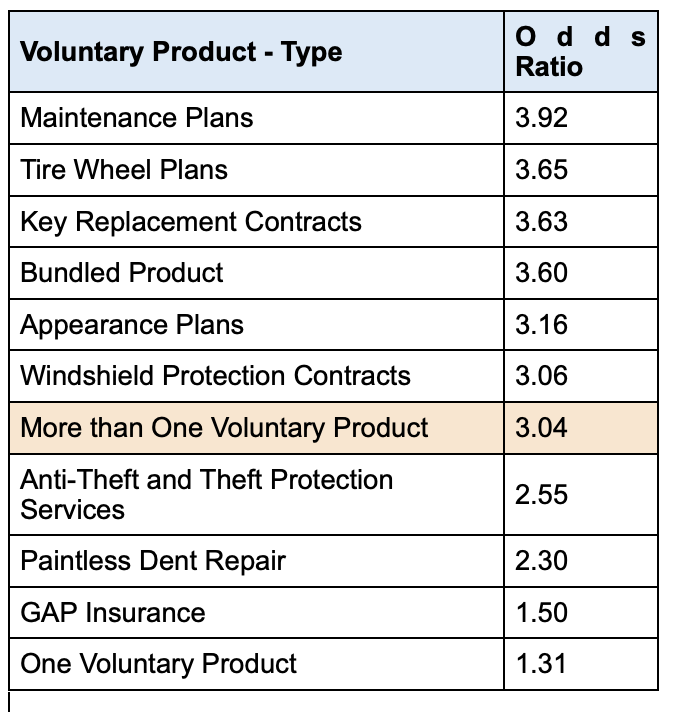 Females are 24% more likely to purchase One VPP than Males
For every product category in the data, females were more likely to purchase the product than males.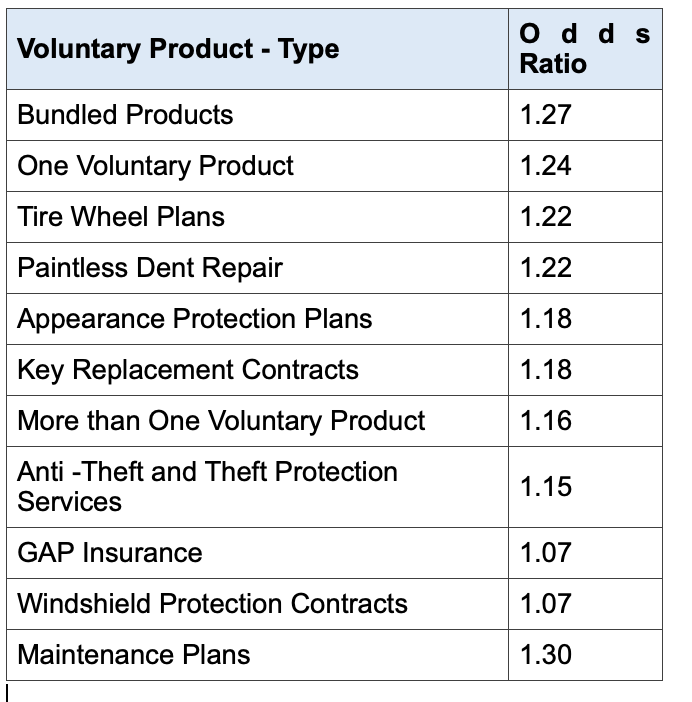 GAP Insurance Products are the Most Commonly Purchased Voluntary Product
We found GAP Insurance was by far the most common VPP product consumers purchased. 33% of all auto loan applications in our analysis contained a GAP Insurance Contract.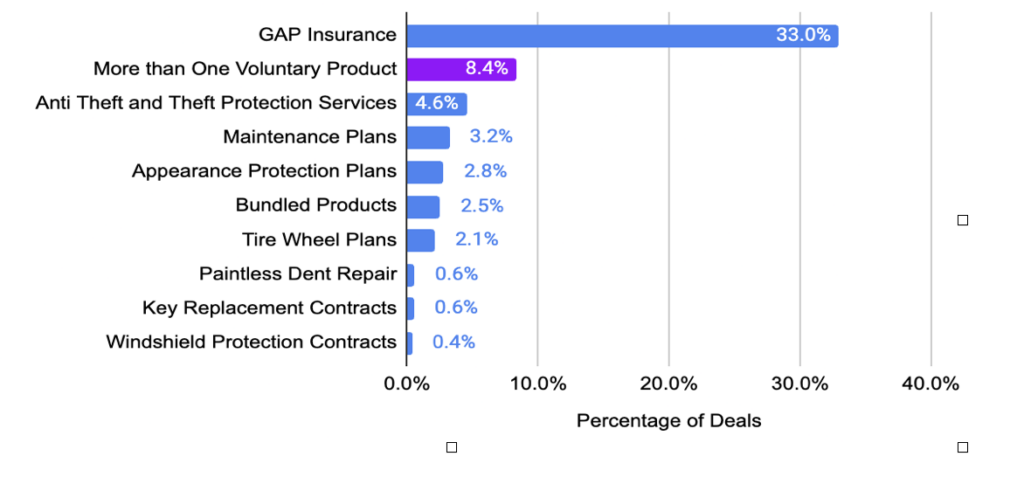 This data sheds light on consumer preferences and priorities when it comes to safeguarding and maintaining vehicles. We found that consumers purchase multiple voluntary products in 8.4% of vehicle deals.
Consumers purchased GAP products (including GAP waivers) more often than any other product – between 25% and 46% of the time. GAP Waivers and Insurance are products that protect consumers from being accountable for the balance of their loan if their vehicle is totaled or stolen.
To predict gender, the Social Security Administration's Name Gender Lookups were used prior to data set anonymization. To reduce noise in the analysis, the datasets were narrowed down to focus on applications primarily intended for auto loan verifications, thereby minimizing extraneous information. These internal datasets helped gain insights into the age and employment types of the applicant pool.


Modern AI techniques can mitigate bias in consumer purchases by:
• Leveraging diverse and comprehensive data sources available for decision-making
• Deploying algorithms that minimize bias
• Automating decision-making to reduce human discretion
"Big Data" makes it possible to collect much more information, of types that weren't available before. There's also plenty of supplemental data to improve the loan approval process. But the starting point is the data provided by the applicant. Today's use of AI and ML allows automotive professionals and lenders to understand all documents and extract and classify the underlying data into a deal jacket, greatly reducing the need for manual intervention and improving speed and accuracy. This provides a better customer experience and for auto loans, gets the dealer paid faster.
With this deeper level of understanding now possible, dealers, lenders and everyone involved can have a higher level of understanding how to build more financial inclusivity across age and gender during and even after the vehicle shopping process.